Can you "just be yourself" and make a living at the same time?
During the summer I repeated this "mantra" to the newest member of our Green Elephant team. Just be you. After a few months, this employee shared that this explicit permission of "being you" had had a massive impact on their life. They said: "This has been one of the biggest gifts and also the biggest challenge that anyone has ever given to me. - "How come?" - "For me to be truly me, I am responsible for defining who I am." (or  " By allowing me to be me, comes the responsibility to define who I am.")
After knowing who you are comes the second question. What is your IKIGAI? What is your purpose in life? You might already know this Japanese concept that means "a reason for being". The word consists of 'Iki' (to live) and 'gai' (reason). The word refers to having a direction or purpose in life, that which makes one's life worthwhile. Over the summer I had a welcome break to reflect and meditate on what is my IKIGAI.   
What am I good at?

What am I passionate about?

What would serve the planet?

What can I get paid for?
These big life and career-shaping questions, helped me to recalibrate my life and therefore also re-evaluate the direction for Green Elephant. A company or organization can, and in my opinion, should have its own IKIGAI or Evolutionary Purpose as Frederic Laloux calls it in his "Reinventing organisations" book.
The "Holy Trinity" of Teal organizations is: 
Self-management
In a Teal mindset, an organization endorses distributed, natural authority and collective intelligence. 
Wholeness
Meaning that individuals "drop their masks," and bring all of who they are to work, not just the characteristics deemed to be professional. 
Evolutionary purpose
With an evolutionary purpose, a Teal organization reflects the deeper reason the organization exists. It relates to the difference it wants to make in the community it operates in, as well as in the marketplace it serves. It is serving the 'greater good' that matters.
So, what is Green Elephant's IKIGAI?
I invited the team to sense,  listen and strive to understand what the world is calling us to do. We all put our egos and fears on the back seat and allowed ourselves to think big. We indulged to explore deeper questions and possibilities collectively. Then we made a "Blue Sky" plan with a mindset of -" if anything was possible".
What is the calling of Green Elephant?

What is the biggest positive Social Impact we can set ourselves to do?

What is truly worth achieving? 
The conclusion was that instead of only focusing on transforming corporations, Green Elephant will also start to empower happy and conscious relationships.  How might we reinvent the way we engage in relationships?  You can start your journey towards Conscious Relationships by making these 5 promises to someone in your life.
Challenge to re-discover your IKIGAI
From spring onwards people turned to us feeling lost, drifting: "I've lost my inner drive and  motivation. What should I do?" That's why we created the IKIGAI Quest. This online tool intends to help you to reflect and refocus your work in the current global shift. It serves as a meta-reflection to those who are in the middle of re-considering their professional activities.
Even if you would be exactly in the right school, workplace or position this an Ikigai reflection will most likely  be helpful to clarify your internal motivators and values. Surely it cannot hurt to give yourself a liscence to dream - big or small, re-calibrate your calling or evolutionary purpose, map your current needs and choose what kind of human-to-human connection you would like to experience.
So, make yourself a cup of coffee or tea. Sit comfortably and treat yourself to a moment of quality me-time. This won't take longer than 10 min. Afterwards, you will receive your personal "design-your-life" question by email. This unique question can be used to reflect alone for eg. by journaling or with a trusted friend in a meaningful conversation.
Why? So you can choose to be you.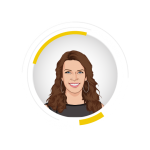 Ritual designer and communication coach, Anu keeps people on track with radical candor, humour, and her pragmatic "Sisu" - Finnish for determination.